Over the Moon with Delectable Mooncakes
We are over the moon about Mid-Autumn! Join us as we celebrate this beautiful and heartwarming season with delectable mooncakes by Crowne Plaza Changi Airport.
Illuminate the hearts and homes of family and friends this Mid-Autumn with delectable Snow Skin Mooncakes in the Vibrant Plum box and Traditional Baked Mooncakes in the Royal Blue box. These elegant gift boxes are adorned with orchid motifs reminiscent of Crowne Plaza Changi Airport's iconic façade.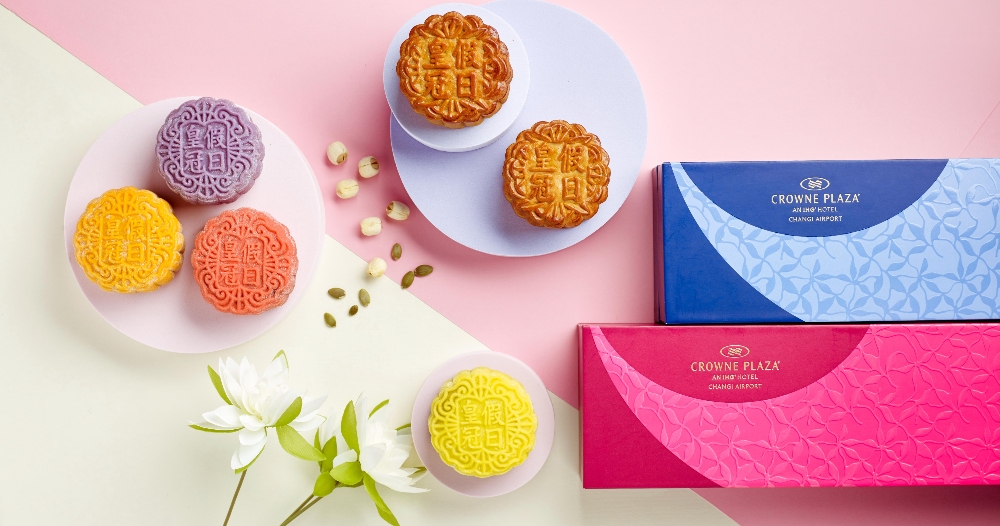 Traditional Baked Mooncakes
Joining the line-up of this year is the refreshing White Lotus Orange Paste with Melon Seeds alongside perennial favourites such as the White Lotus Paste with Single and Double Yolk, Low Sugar White Lotus Paste with Macadamia Nuts and Nyonya Mixed Nuts Baked Mooncakes.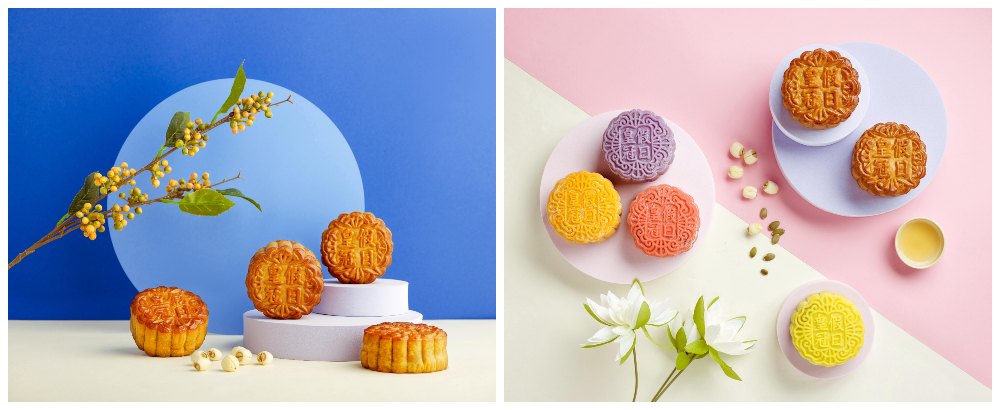 These exquisitely crafted mooncakes are filled with delectable smooth white lotus paste and baked to golden brown perfection. The sweet white lotus paste is complemented by the salted egg yolk, and pleases the palates with a superb balance of sweet and savoury. The Low Sugar White Lotus Paste with Macadamia Nuts baked mooncake offers a healthier alternative with a satisfying crunch.
Filled with almonds, white sesame seeds, macadamia nuts, walnuts and Buah Keluak - commonly used in Peranakan cuisines, the Nyonya Mixed Nuts baked mooncake presents a delicious medley of sweet and savoury flavours.
The citrusy-sweet White Lotus Orange Paste with Melon Seeds brings a new zesty twist to the traditional mooncake by infusing orange with smooth white lotus paste and filling it with melon seeds for added crunch.
The traditional baked mooncakes are available in a box of four singular flavours ($74 nett) as well as an exclusive assorted selection of White Lotus Paste with Double Yolk, Low Sugar White Lotus Paste with Macadamia Nuts, Nyonya Mixed Nuts and White Lotus Orange Paste with Melon Seeds.
Snow Skin Mooncakes
Our Snow Skin Mooncakes are inspired by beloved Asian desserts and come in an assorted box of 4. Featuring past favourites - Mango Pomelo and Orh Nee (Yam Paste with Gingko Nuts) and delectable new flavours - Yuzu and Adzuki Beans.

Citrus lovers will enjoy the refreshing sweet-tart flavour of the Yuzu snow skin mooncake. The Adzuki Bean snow skin mooncake is truly an all-time Mid-Autumn classic filled with sweet red bean paste made from nutrient-rich adzuki beans and a nostalgic flavour in every bite. The Mango Pomelo snow skin mooncake presents the perfect combination of the mildly bittersweet pomelo flavour and the sweet, tangy taste of mango. The Orh Nee snow skin mooncake is decadently satisfying, filled with smooth, creamy yam paste and boiled gingko nuts.
The snow skin mooncakes are available in a box of 4 at $74 nett.
Order Online
Order on our e-store from 1 July - 21 September 2021.
Credit Card Promotions
Enjoy 25% off mooncakes when you purchase on our e-store with any of the following credit cards and use your bank credit card promo code on your online purchase.
AMEX | CITI | CIMB | DINERS CLUB | HSBC | UOB
CONTACT US
For enquiries or corporate orders of 30 boxes and above, email lobbylounge.cpca@ihg.com or WhatsApp Message: +65 9336 3694.