Chinese New Year Takeaways
Valid till 26 February 2021
Usher in an exuberant Year of the Tiger with delicious and fuss-free takeaway feasts this Chinese New Year.
Shop online to enjoy 25% off CNY takeaways. For a limited time only.
Download e-brochure here.
Bring home the auspicious Harmony Salmon Yusheng ($78+) and Fortune Abalone Yusheng ($98+) as you usher in the New Year with a toss of abundance and good fortune. There is something for everyone this Lunar New Year. Delight family and friends on a vegetarian diet with the Happiness 'Tiger Prawn' Plant-based Yusheng ($78+).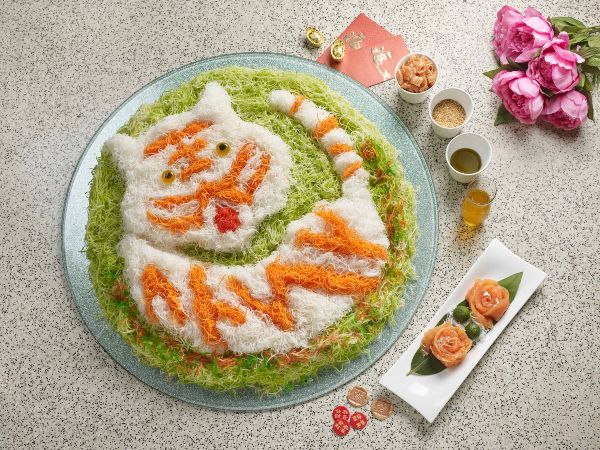 For added indulgence, the following add-ons for Yusheng are available:
Norwegian Salmon - $16+ (10 slices)
Baby Abalone - $38+ (10 pieces)
Feast on the wondrous Golden Treasures Seafood Pen Cai ($368+), an ocean treasure pot filled with Australian rock lobster, Atlantic goliath grouper, baby abalone, oysters, scallops, snow crab legs, sea prawns and other exquisite festive delicacies slow-cooked in collagen-rich pumpkin gravy. A perennial favourite for Lunar New Year, the Bountiful Treasures Pen Cai ($258+) is a luscious pot of treasures including premium baby abalone, dried oysters, sea cucumber, fish maw, dried scallops, braised pork belly, assorted mushrooms, fatt choy (black moss), fried yam, white radish and wolfberries slow-cooked in collagen-rich pumpkin gravy.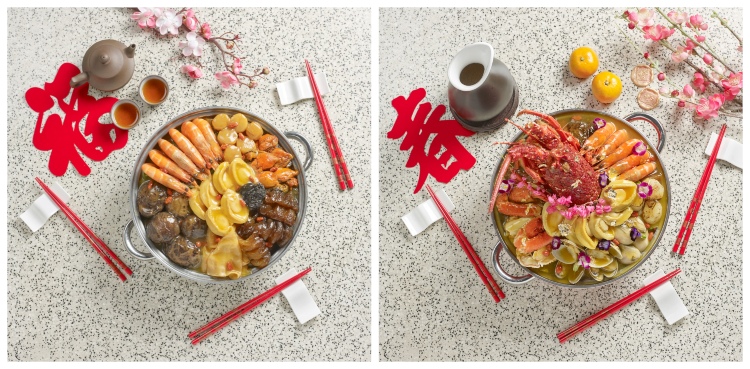 Celebrate joyful reunions in the comfort of home with Chinese New Year favourites such as the Five-Spice Dang Gui Roast Duck ($88+) and Aged Soya Pork Belly Roulade ($78+). Made with a traditional recipe, the duck is marinated with aromatic five-spice Dang Gui (Angelica Sinensis) sauce and roasted to golden perfection. The succulent roast duck is delicious with mouthwatering crispy skin and juicy, tender meat that pairs perfectly with the sweet and tangy plum sauce. The Aged Soya Pork Belly Roulade is also a well-loved festive dish. Taste the heartwarming goodness of Chinese comfort food with this classic dish of tender rolled pork belly slowly braised in sweet and savoury aged soya sauce, served with a trio of sautéed shimeiji mushrooms, straw mushrooms, flower mushrooms and bak choy. This deliciously tender, melt-in-your-mouth pork belly roll is best enjoyed over steamed rice or sandwiched in between soft and pillowy flat steamed buns.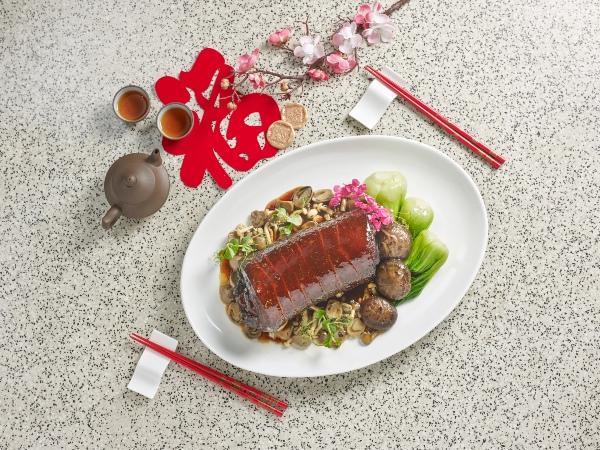 For grander celebrations, add on our new tea-inspired dishes such as the Longjing Smoked Sakura Chicken ($58+), Roselle Lychee Sea Prawns ($48+) and Osmanthus Honey-Glazed Pork Ribs ($48+) along with the Chef's Special XO Crab Meat Fried Rice (38+) or the Chinese Cured Meat Claypot Rice ($88+), curated for an unforgettable gastronomic feast this Lunar New Year.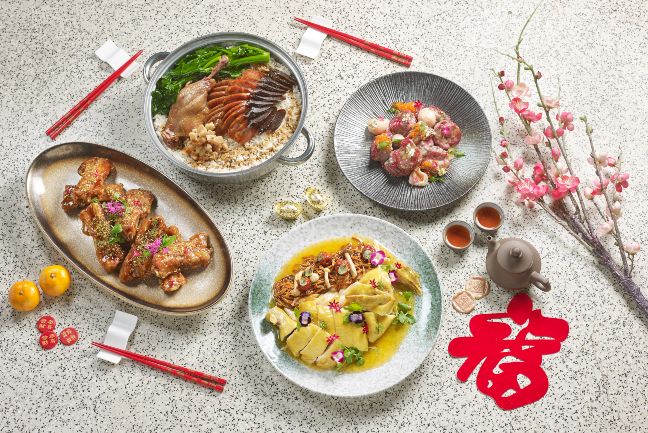 End the sumptuous meal and begin the New Year on a sweet note with auspicious treats such as the Tiger Pineapple Tarts ($45+, 15 pieces per box) with buttery, melt-in-the-mouth pastry bursting with sweet and tangy pineapple jam and the joyful Tiger Fu Pouch ($88+), featuring a chocolate Tiger figurine sitting atop a chocolate shell shaped like an oriental drawstring pouch filled with delightful bite-sized goodies including Valrhona berry chocolates, rainbow lapis, honey osmanthus wolfberry jelly, pineapple tarts, fortune cookies and tiger meringue cookies.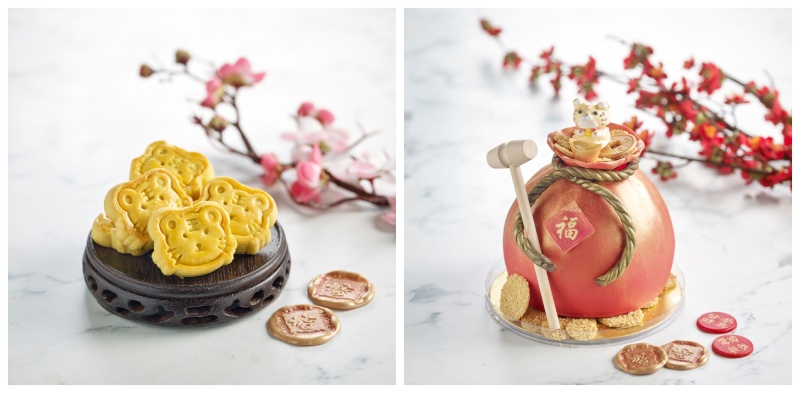 TO ORDER
Shop online to enjoy 25% on our festive takeaways. Orders to be made at least 3 days in advance.
Available for order from now till 30 January 2022. Collection from 10 January - 31 January 2022.
Contact us at tel: 6823 5354, WhatsApp message: 9336 3125 or email: azur.cpca@ihg.com
*Prices are inclusive of prevailing government tax.
CREDIT CARD PROMOTIONS
Enjoy up to 25% off CNY takeaways when you make payment with any of the following credit cards:
AMEX | CITI | DINERS CLUB | HSBC | MAYBANK | UOB
Valid till 30 January 2022.