Chinese New Year Takeaways
Valid till 26 February 2021
Celebrate joyful reunions in the comfort of home with delicious and fuss-free takeaway feasts this Lunar New Year.
Early Bird Special: 30% off CNY takeaways for a limited time only. Shop online to enjoy.
Bring home the auspicious Crowne Prosperity Yusheng (Regular $68+ ; Large $98+) as you usher in the New Year with a toss of abundance and good fortune.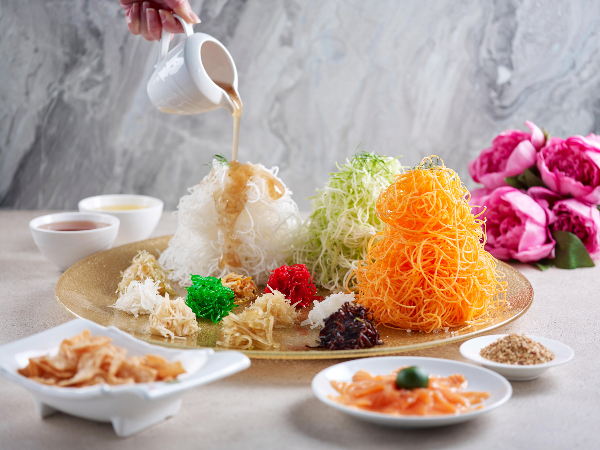 For added indulgence, the following add-ons for Yusheng are available:
Norwegian Salmon - $16+ (10 slices)
Boston Lobster - $38+ per piece
Australian Abalone - $38+ (10 pieces)
A perennial favourite for Lunar New Year, the Bountiful Treasures Pen Cai (Regular $168+ ; Large $308+) is a luscious pot of treasures in superior broth, comprising delectable delicacies – Baby Abalone, Sea Cucumber, Fish Maw, Dried Scallops (Conpoy), Dried Oysters, Prawns, Braised Pork Belly, Braised Mushrooms, Broccoli, White Radish, Yam, Black Moss (Fatt Choy) and Wolfberries.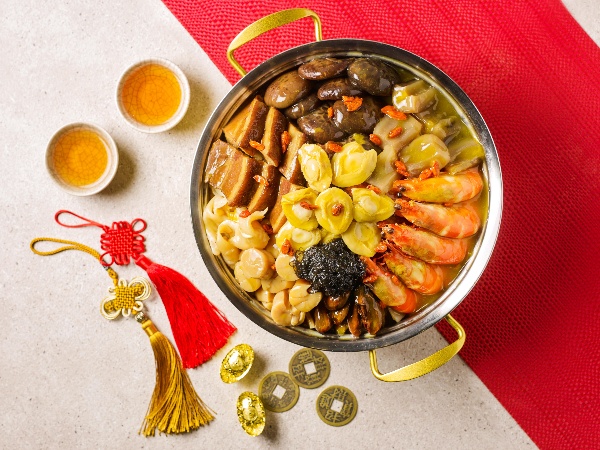 Another highlight of our festive takeaways is the Herbal Sakura Chicken ($68+; 1.6kg). This delectable dish is prepared by marinating the chicken for 24 hours in Chinese Wine and stuffed with Dang Gui, Wolfberries, Chestnuts, Garlic and Shallots. It is then wrapped in banana leaves and steamed for 4 hours.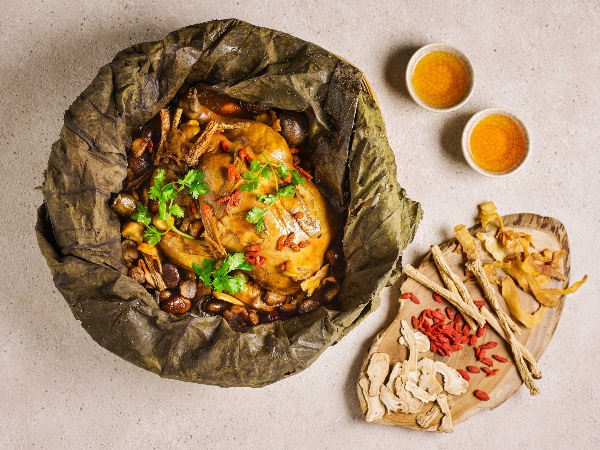 Add a touch of luxury and surprise to your reunion dinner with the Truffle Roast Duck ($98+, 2.8kg). To prepare this dish, the duck is marinated with Chinese herbs and black truffle for 4 hours, then air-dried for 10 hours before it is roasted for another hour to golden perfection. Spice up your celebration with the Black Pepper Iberico Pork Ribs ($88+, 1.5kg), which is back by popular demand. The juicy Pork Ribs are glazed with house special black pepper sauce and served with raisin coleslaw and seasonal greens.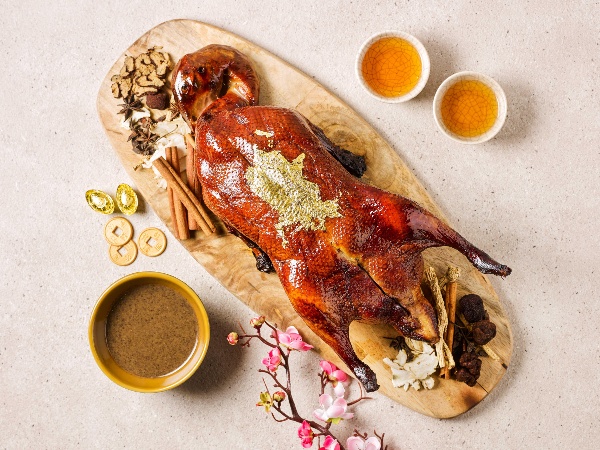 End the sumptuous meal and begin the New Year on a sweet note with auspicious treats such as the 'Huat' Prosperity Pineapple Tarts ($38+, 12 pieces), Koi Fish Nian Gao ($68+, a pair), Ang Ku Kueh Koi Fish ($18+, a pair), Pandan Sugee Cookies ($28+, 200g) and Red Dates Cookies ($38+, 12 pieces).


These delectable Lunar New Year takeaways are available for order from now till 23 February 2021. Collection of orders from 1 to 26 February 2021, 11am to 7pm.
CREDIT CARD PROMOTIONS
Enjoy up to 25% off CNY takeaways when you make payment with any of the following credit cards:
AMEX | BOC | CITI | CIMB | DINERS CLUB | HSBC | MAYBANK | UOB
Valid till 26 February 2021.
TO ORDER
Shop online to enjoy up to 30% off CNY takeaways for a limited time only.
Tel: +65 6823 5354
Email: azur.cpca@ihg.com
COLLECTION
Collection is available at the hotel's Business Centre (Level 1), from 1 to 26 February 2021, 11am - 7pm.