Chinese New Year Takeaways
The Lunar New Year is a time for family reunion and catching up with our loved ones. Bring home the Prosperity Yusheng as you welcome the new year with a toss to abundance, good fortune, happiness and health. Shop online to enjoy 25% savings on our Chinese New Year takeaways.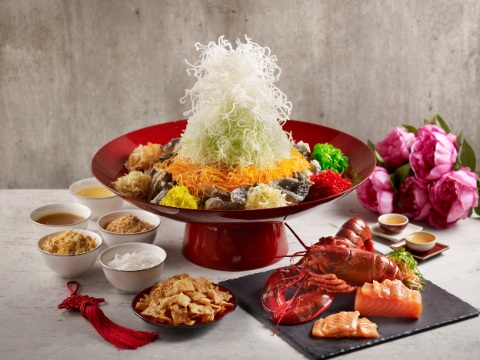 Choose from the Norwegian Salmon Yusheng ($88+), Boston Lobster Yusheng ($128+ ; includes 1 Boston Lobster) or pamper your palate with the Australian Abalone Yusheng ($168+ ; includes 8 pieces of Abalone). The Prosperity Yusheng consists of an auspicious combination of shredded vegetables and condiments including White Radish, Carrots, Green Radish, Pickled Ginger, Candied Orange Zest, Candied Winter Melon, Crispy Crackers, Roasted Peanuts, Sesame Seeds, Five Spice Powder, Nutmeg, White Pepper Powder, Plum Sauce and Crispy Fish Skin.
Pamper your loved ones with additional indulgence to your Prosperity Yusheng. The following add-ons for Yusheng are available:
Norwegian Salmon - $16+ per 60g
Boston Lobster - $38+ per piece (400g)
Australian Abalone - $8.80+ per piece (80g)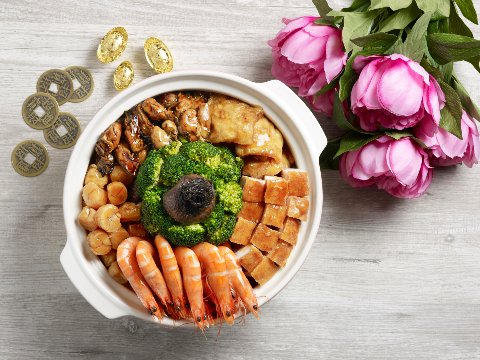 A perennial family favourite during Lunar New Year, the Bountiful Treasures Pen Cai is a luscious pot of treasures consisting delectable delicacies - Sea Cucumber, Fish Maw, Conpoy (Dried Scallops), Dried Oysters, Prawns, Crispy Roast Pork Belly, Braised Mushrooms, Broccoli, White Radish, Yam, Fatt Choy (Black Moss) and Wolfberries, prepared overnight and slow cooked in superior broth to perfection in a claypot. Available for takeaway at $168+, the Bountiful Treasures Pen Cai is ideal for 6 to 8 persons.
The following add-ons for Pen Cai are available:
Boston Lobster - $38+ per piece (400g)
Australian Abalone - $8.80+ per piece (80g)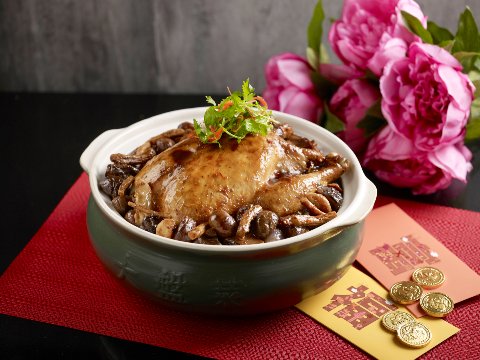 Another highlight of our festive takeaways is the Herbal Emperor's Chicken with Mushroom and Chinese Sausage ($68+; 1.8kg). Prepared using Executive Chef Jackie Zhang's recipe, the Herbal Emperor's Chicken is stuffed with mushroom and Chinese sausage, and cooked in herbal broth with Dang Gui (Chinese Angelica Root), Wolfberries, Gui Pi (Cassia Bark), Red Dates and Yu Zhu (Solomon's Seal Rhizome), for 90 minutes.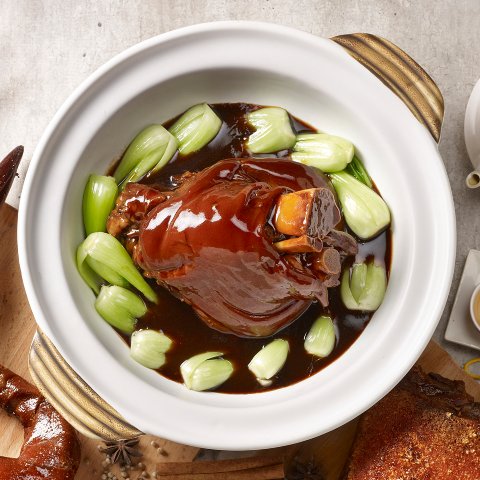 The collagen-rich Braised Pork Knuckles with Conpoy (Dried Scallops) and Fatt Choy (Black Moss) ($88+; 1.2kg) is another popular Lunar New Year takeaway dish and is ideal for 4 to 6 persons. The pork knuckles are prepared overnight in a herbal concoction comprising Star Anise, Cinnamon Sticks, White Peppercorns, Ginger, Rock Sugar and Dried Chilli in a claypot and braised for another 2 hours before the dish is ready to be served.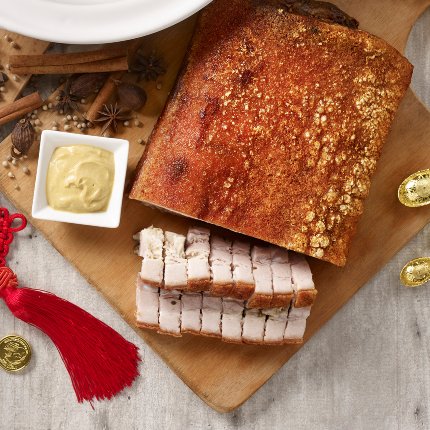 The Crispy Roast Pork Belly with Honey Mustard (1kg, $58+) is a favourite of many. It is roasted to perfection with crispy, crunchy pork crackling with tender meat that melts in your mouth.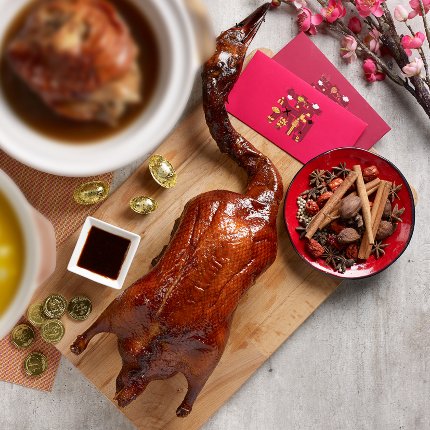 Made with a traditional recipe, the Five Spice Roast Duck with Plum Sauce (2kg, $68+) is truly delicious with its mouthwatering crispy skin, tender and juicy meat.
The Lunar New Year takeaways are available for order at Lobby Lounge or on our online store from now till 16 February 2019 for collection between 21 January to 19 February 2019. Orders are to be placed three days in advance.
PROMOTIONS
Enjoy 25% off with selected credit cards or shop online.
Receive a set of limited edition Red Packets for orders $180 and above (while stocks last).
TO ORDER
Tel: +65 6823 5367
Email: lobbylounge.cpca@ihg.com
COLLECTION
Self collection is available at Lobby Lounge (Level 1) from 21 January - 19 February 2019, between 9am - 9pm.
DELIVERY SERVICE
Delivery service to one local address will be available with a delivery fee of $60.
Complimentary delivery service will be provided with a minimum spend of $500.
*Note: The images shown are for illustration purpose only and may not be an exact representation of the item.