Chinese New Year Takeaways
The Lunar New Year is a time for family reunion and catching up with our loved ones. If you prefer to celebrate the festivities with family and friends in the comforts of home, check out these mouthwatering yet fuss-free festive takeaways.
Shop online to enjoy 25% off festive takeaways.
Download our Chinese New Year eBrochure for more information on our festive promotions.
Bring home the traditional Crowne Prosperity Yusheng ($88+) as you usher in the New Year with a toss of abundance and good fortune.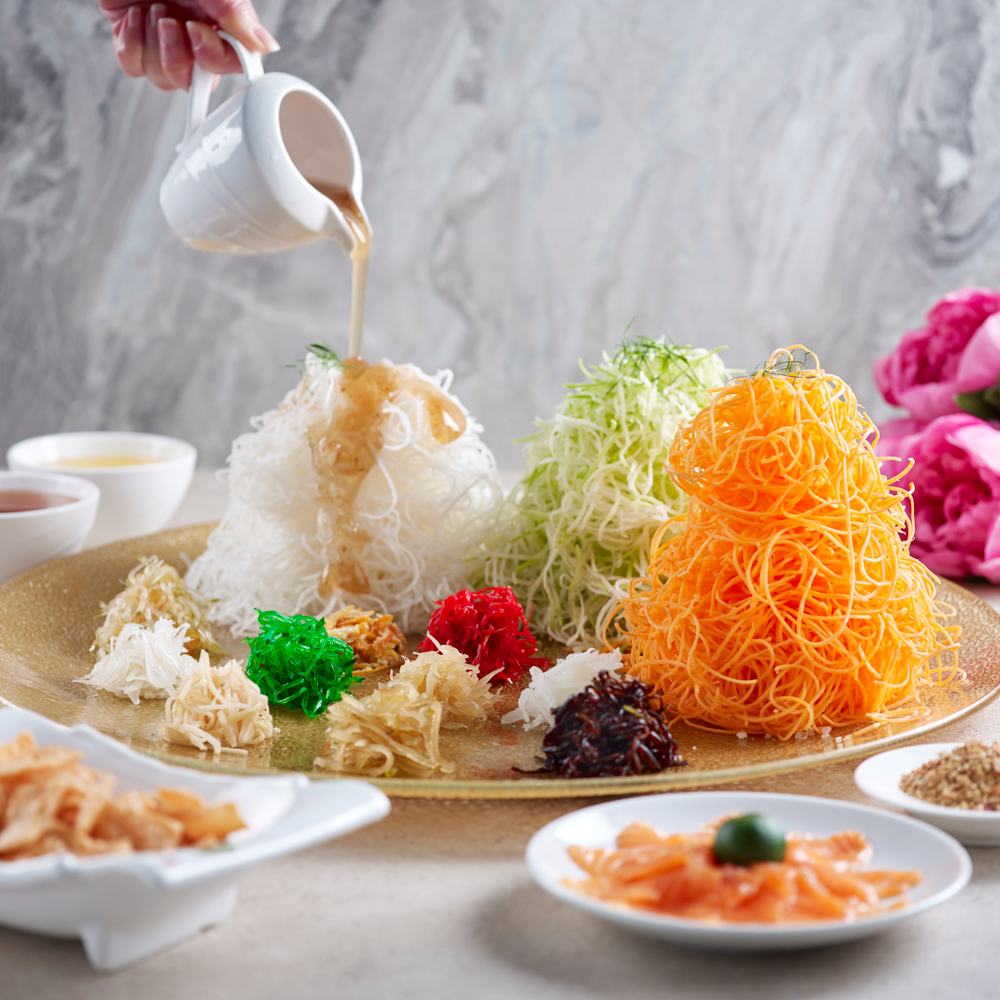 The contemporary Celestial Crowne Yusheng ($108+), which is inspired by the popular Hawaiian Poké bowls, provides a creative and healthier option. Executive Chef Alvin created this dish with a variety of fruits and vegetables including Green Mango, Red Radish, Pickled Sweet Turnip, Pickled Beetroot, Red Cabbage, Pickled Papaya and Pickled Pineapple. The spiralised salad is topped with Norwegian Salmon, Salmon Roe, Chia Seeds, Seaweed, Citrus Mango Plum Sauce, Togarashi Spice, as well as chopped Almonds and Charcoal Dough Chips for an extra crunch.
For added indulgence, the following add-ons for Yusheng are available:
Norwegian Salmon - $16+ per 60g
Boston Lobster - $38+ per piece
Australian Abalone - $8.80+ per piece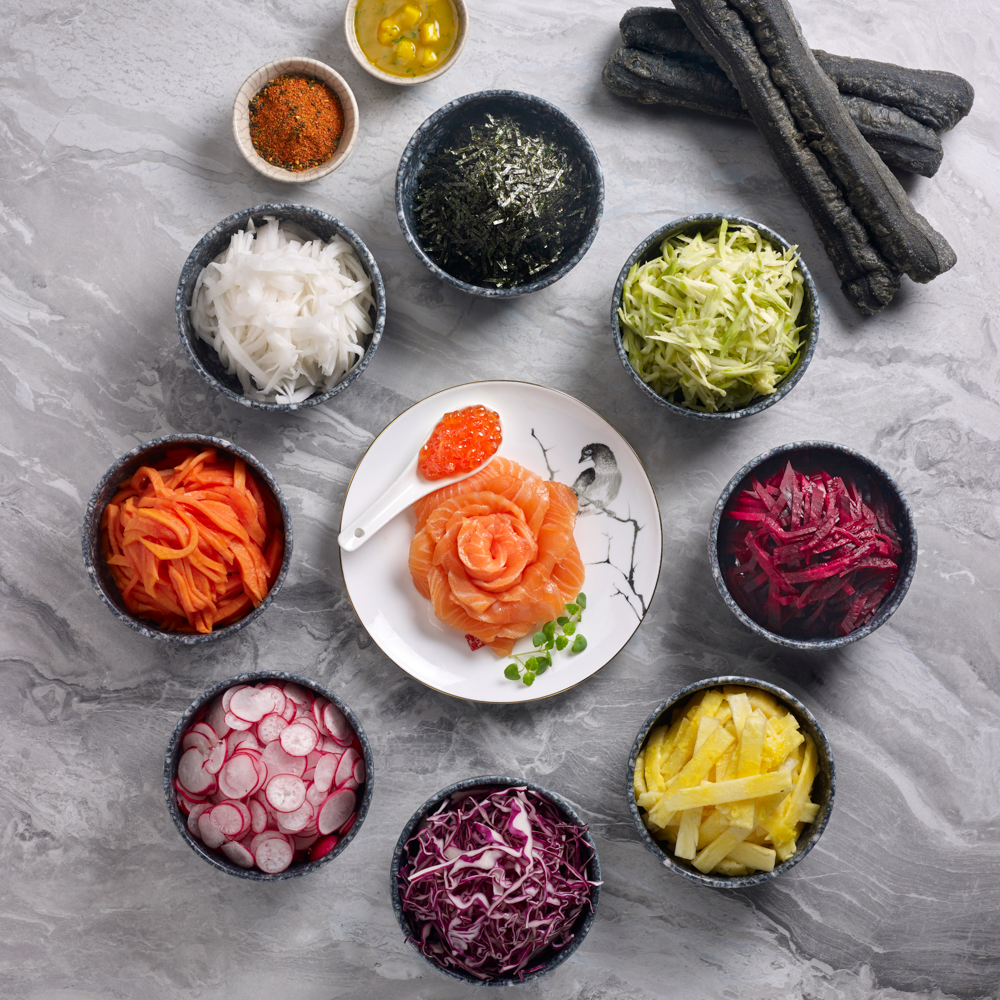 A perennial family favourite during Lunar New Year, the Bountiful Treasures Pen Cai ($168+) is a luscious pot of treasures comprising delectable delicacies - Sea Cucumber, Fish Maw, Dried Scallops (Conpoy), Dried Oysters, Prawns, Crispy Roast Pork Belly, Braised Mushrooms, Broccoli, White Radish, Yam, Black Moss (Fatt Choy) and Wolfberries.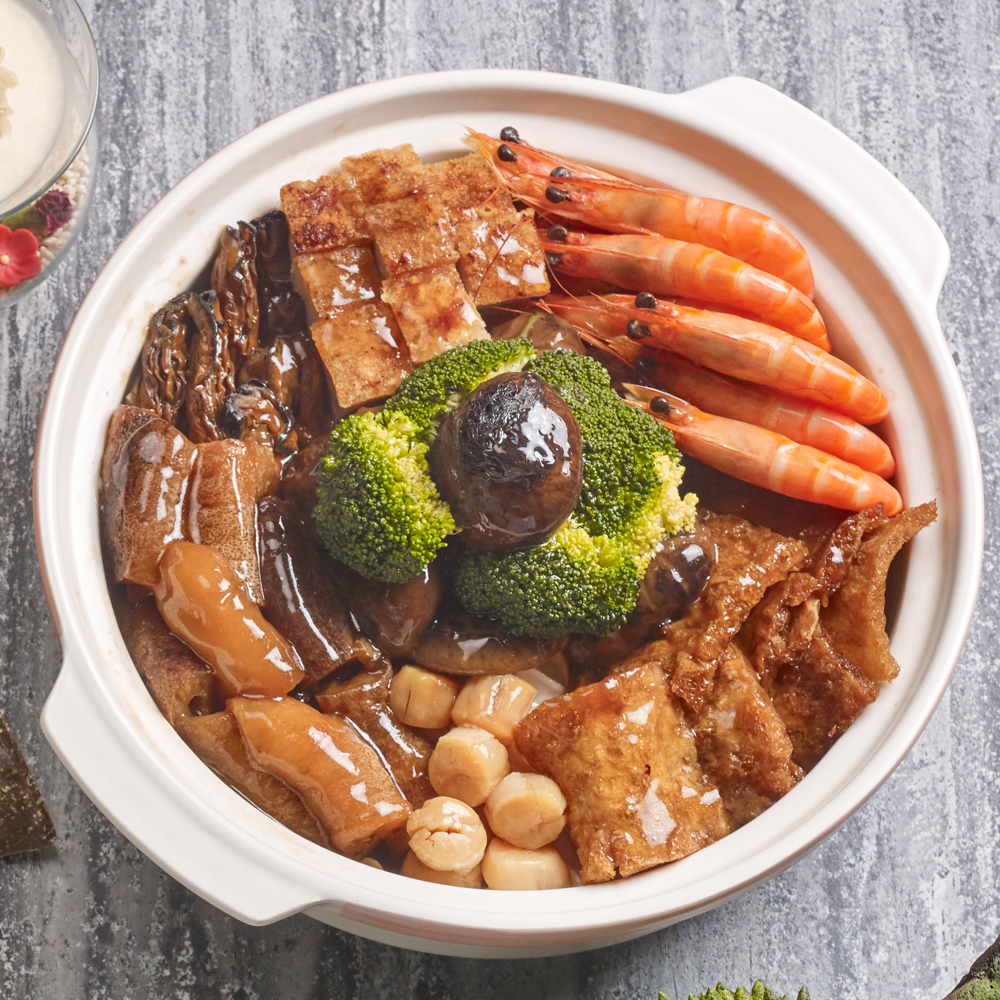 Savour the New Straits Nyonya Pen Cai ($238+) by Executive Chef Alvin, who specialises in Southeast Asian and Peranakan cuisines. This prosperity pot is brimming with decadent delicacies, from Nyonya-style Crab Meatballs (Bakwan Kepiting) and Pork Knuckle Stew (Pongteh) to luxurious Pen Cai ingredients such as Dried Scallops (Conpoy), Dried Oysters, Prawns, Sea Cucumber, Fish Maw, Braised Mushrooms, Soy Sauce Stewed White Radish and Black Moss (Fatt Choy).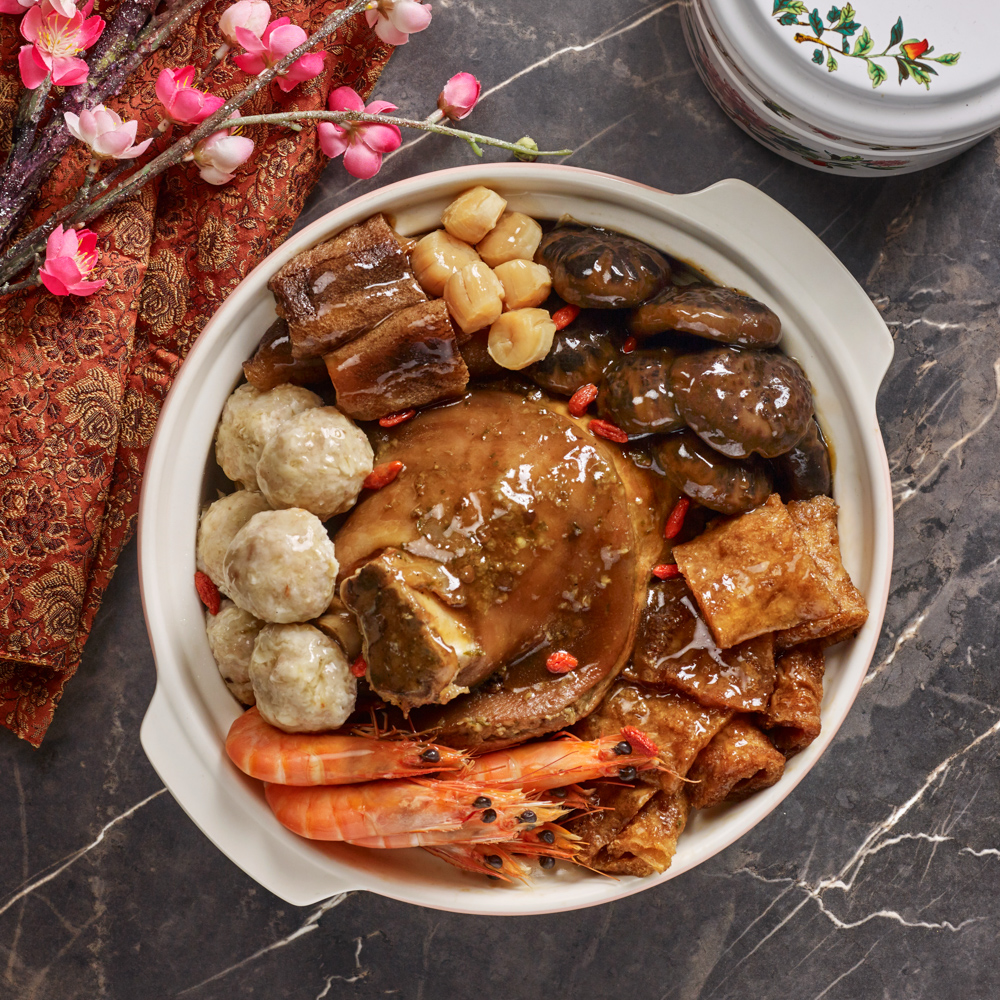 Another highlight of our festive takeaways is the Salt Baked Sakura Chicken ($58+; 1.6kg). This dish is prepared by marinating the chicken for 24 hours and stuffed with glutinous rice, mushrooms and Chinese cured sausages (Lap Cheong). It is then wrapped in banana leaves and cocooned in a crust made with salt and egg white before it is baked at 100°C for 90 minutes.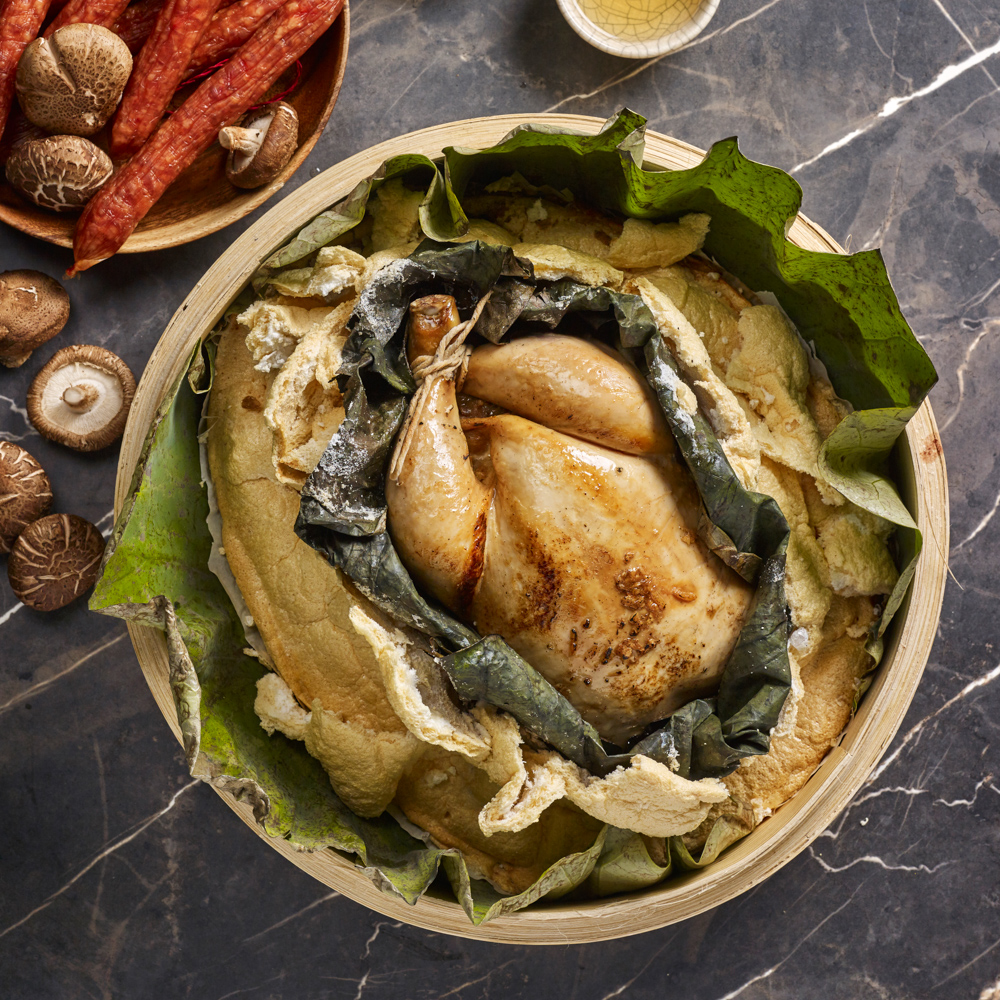 The Crispy Roast Pork Belly with with Chilli Chukka and Chai Buey (1kg, $68+) is a favourite of many. It is roasted to perfection with crispy, crunchy pork crackling with tender meat that melts in your mouth.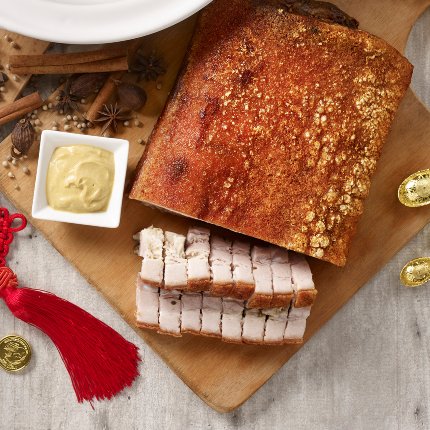 Made with a traditional recipe, the Five Spice Roast Duck with Plum Sauce (1.8kg, $68+) is truly delicious with its mouthwatering crispy skin, tender and juicy meat.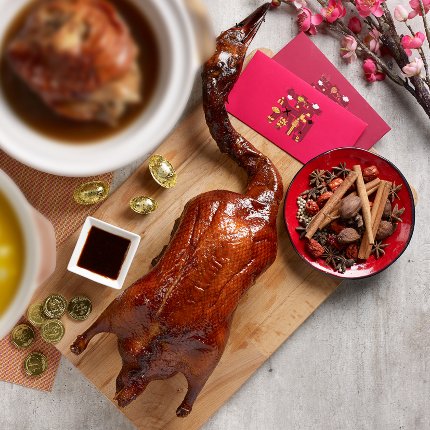 The Lunar New Year takeaways are available for order at Lobby Lounge from now till 5 February 2019 for collection between 6 January to 19 February 2019. Orders are to be placed three days in advance. Shop online to enjoy 25% off festive takeaways.
PROMOTIONS
Enjoy up to 25% off when you make payment with any of these credit cards: BOC / Citi / Diners' Club / HSBC / Maybank / UOB.
TO ORDER
Tel: +65 6823 5367
Email: lobbylounge.cpca@ihg.com
COLLECTION
Self collection is available at Lobby Lounge (Level 1) from 6 January - 8 February 2020, between 9am - 9pm.
DELIVERY SERVICE
Delivery service to one local address will be available with a delivery fee of $60.
Complimentary delivery service will be provided with a minimum spend of $500.
*Note: The images shown are for illustration purpose only and may not be an exact representation of the item.